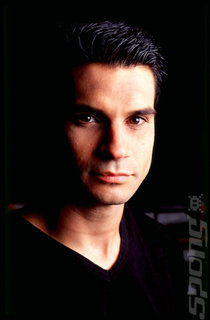 SPOnG:
In your career, what has been the project you have been most proud of composing?
Tommy Tallarico:
Well,
Earthworm Jim
was actually one of the most fun games I?ve ever worked on. It sticks out in my mind because there were no boundaries and no rules and I could do whatever the hell I wanted on it. It was great.
From a composition standpoint I?d say one of my favourite works in
Advent Rising
. I always wanted to write an opera, and
Advent Rising
definitely satisfied my need for that. I used 13th century Italian opera to tell the story. I worked over two and a half years on that music, it?s something I?m really proud of, which is why I?ve put that in the show.
SPOnG:
I?m not going to ask what has been your most awkward experience in music composition ? we reckon you might say (NES game)
Colour A Dinosaur
? but have there been any other projects you?ve worked on where you were posed with significant challenges?
Tommy Tallarico:
Colour A Dinosaur
! You?ve done your research! (Laughs) But yeah, when I was working on the
Pac-Man
projects, I really wanted to use the
Pac-Man
theme but present it in a way that wasn?t cheesy or ?Here?s the Pac-Man theme with a rock guitar?.
Another challenging project was
Maximo
and
Maximo 2
which were really offshoots of
Ghost and Goblins
/
Ghouls and Ghosts
? I find that working with other people?s melodies and being a gamer myself, I feel an obligation to remake a tune by modernising it without bastardising it. In doing it I really want to create something that?s new and unique while paying homage to the original.
It was the same with
Tomorrow Never Dies
, where I had to take the John Barry stuff and rework it while doing it justice. It?s a very difficult thing to do and it?s challenging to create something that the hardcore gamer will appreciate as well.
SPOnG:
What are your plans after this new Video Games Live tour? Any new game projects or live performances lined up? How do you see VGL evolving in the future?
Tommy Tallarico:
Our goal is to build this like Cirque de Soleil has over the years. We love to keep going and improving on what we have so year on year you?ll see new games, new music experiences and more interactivity. We want to expand to play all over the world too ? VGL was the first event of its kind to play in places like Brazil, the UK, Canada. Asia is a region we really want to focus on, recently we played in Korea and it went down amazingly well.
But the focus is really to just keep making the show bigger and better every year, and to make sure we can get to all the different places in the world. We want to play in Sweden and Italy to name a few! We?re already planning shows for 2008 which are selling out so it?s really cool to see how slowly but surely the whole thing is building up. For instance, there were three shows in our first touring year in 2005; that grew to 11 in 2006 and this year we?ve done about 30. Next year we want to do 50 to 60 shows and keep going until we can do about 100 to 200 performances a year.
SPOnG:
Tommy Tallarico, thank you very much for your time.
Tommy Tallarico:
Thank you very much!